Exclusive Sea Doo Technologies Deliver Most Advanced Riding…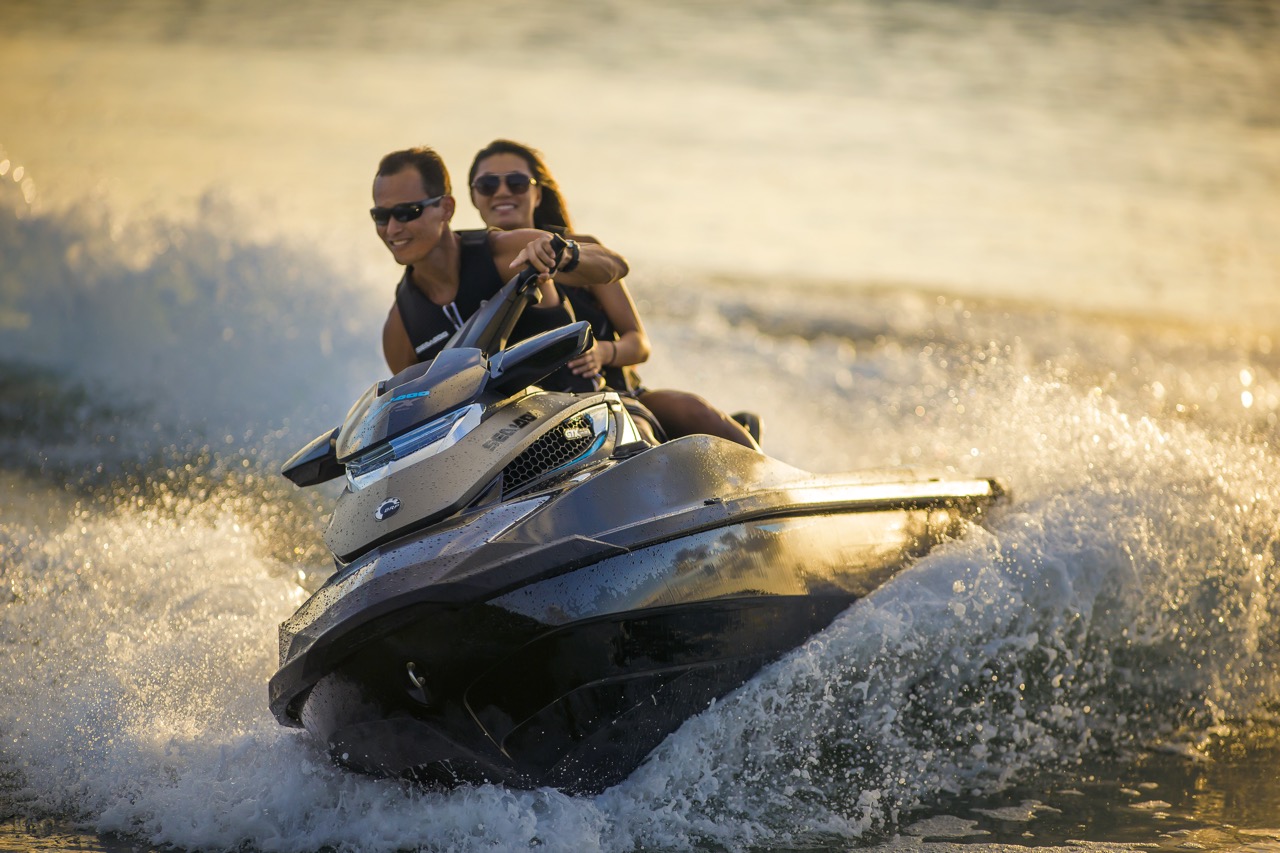 Here are my top 5 technologies for great PWC riding on a Sea Doo tour for experienced riders and beginners. If you haven't been on one of these advanced technology personal watercraft, you're really missing the boat (lol)! As an experienced touring rider on my Sea Doo GTX S 155, these technologies and many other products take my Ontario touring to a whole new level of enjoyment…
Sea Doo Technologies – Stop It Cold…
For Sea Doo riders, nothing beats being able to stop on a dime. As the pioneer of on the water braking, Sea-Doo watercraft have slowing and stopping nailed. Their iBR (Intelligent Brake & Reverse) gives me the ability to stop quickly and in control. Gentle squeezing of the left-side handbar lever slows the PWC as gradually as I want, while a hard squeeze results in an abrupt halt (and yes, a sudden soaking as the front end pushes down).
Sea Doo Technologies – Back It Up…
I didn't realize what a pain playing around with a side-mounted, mechanical reverse lever was until Sea-Doo introduced electronic reverse as part of iBR. Their reverse activates by fully pulling in all the way on the handlebar mounted brake lever. This keeps both my hands on the handlebars for full control while I manipulate my PWC into tight spots by alternately working the throttle and brake/reverse levers.
Sea Doo Technologies – Smooth It Out…
Water looks all soft and appealing, but riding waves can be hard and bruising. Sea-Doo has figured out a way to turn the slap of hull-to-surface contact into a more gentle whoompf by adding its iS suspension to its luxury touring models. Now when the waves kick up, my poor bod doesn't take all the abuse!
Sea Doo Technologies – Start It Stopped…
One of the most annoying and scary characteristics of many PWC's is that whenever I turn on the engine, the PWC immediately starts to move ahead unless I have the side-mounted, mechanical shift lever in the neutral position. Sea-Doo engineers overcame that challenge with an iControl system that automatically starts the unit in neutral every time. No more surprises for the unwary!
Sea Doo Technologies – Make It Four…
Across the board, 4-stroke engine technology has made riding my PWC much more enjoyable. Better fuel economy. Lower oil consumption. Longer and more reliable engine life. Plus the power to cruise whenever and wherever I choose for hours at a time. Now that's riding!
Check out my reviews on other Sea Doo technologies!
The tips and advice in this article are the opinions of the author, may not work in every situation and are intended only for the convenience and interest of the reader, who has the personal responsibility to confirm the validity, accuracy and relevancy of this information prior to putting it to their own use.
Like This Post? Follow Me on Facebook!