How To Get Best Weather Protection On Every Ride…
Let's talk weather protection accessories for Sea Doo Tours for experienced riders and beginners on jet ski adventures. While riding your Sea-Doo watercraft, there's no escaping constant exposure to the elements. Yet there's no windshield, no helmet and no protective gear on my Sea Doo GTX S 155 like on a motorcycle or snowmobile. So all those PWC riders clad only in swimsuits and PFDs shown in manufacturers' ads and catalogues would quickly burn to a crisp or freeze. Equipping for your Sea-Doo tour isn't about making a fashion statement, it's about being totally comfortable to enjoy your ride, so think practical, not pretty. I found much of what I needed for Sea Doo, Jet Ski or Waverunner personal watercraft riding in Ontario and throughout Canada at my Sea-Doo dealer, Gateway Powersports & Marine. You can also check out my product reviews.
Weather Protection Cover Up Accessories For Sea Doo Tours…
Even on sunny days, I've found that riding at any temperature 22˚C (72˚F) or below may not be warm enough for bathing suit only thanks to constant wind chill from my fast-moving Sea-Doo. And, believe me, riding in the rain brings its own exquisite pain from the drops hitting your skin at 40+ mph – they sting like hell, so covering up all skin is a must while riding in precipitation.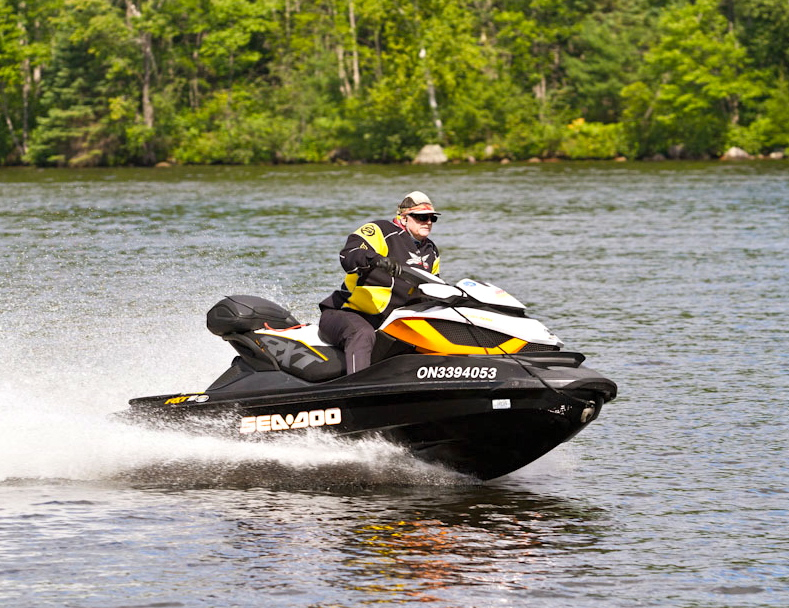 That's why I strongly recommend protecting or covering up all exposed skin, including face, neck, ears, backs of hands, arms, shoulder tops, thighs, calves, ankles and tops of feet on a long ride. Nothing can spoil a day trip quicker than being uncomfortable or getting severe sunburn, so my suggestions for being out on the water all day follow below. One final note: please be as colourful as possible while on the water because you want to be highly visible to others.
Most of what I've itemized can be found in one form or another at the Sea-Doo online store or in the watersports sections at Mountain Coop, Sail or Watercraft Superstore. Also check out Royal Distributing and Bass Pro Shops.
Weather Protection for Head…
I wear a peaked hat with stiff brim and a special snap fastener on the back that allows it to be tightened and hold in place. The peak shades my eyes, forehead, nose and helps keep rain off my face. But the wind can still catch the peak and rip the hat off, so I also hold it place with a long scarf tied over the peak and knotted at the back of my head. I fasten hat and scarf to my shirt collar with a hat clip. For colder days, I have a paddling cap that covers my whole head and ears or a paddling hood that covers face, neck and ears. If you don't like a peaked hat, try a do-rag from Royal. A Tilley style hat with built in chinstrap can also work, but only if the floppy brim is narrow enough that it doesn't continually flap in your face.
Weather Protection for Eyes…
I need prescription lens, so I wear an old pair of glasses under a pair of fit over non-prescription sunglasses with side shields to help keep wind out of my eyes. Both pairs are secured in place with glasses retainer straps, also hat clipped to my shirt collar. If you don't need eyeglasses on the water, then a fitted pair of water goggles will keep out the wind and rain better. I always carry an extra pair of glasses just in case and squirt Visine in my eyes each morning to prevent dry eyeballs.
Weather Protection for Ears…
On long rides, I'll often wear foam earplugs to block out wind buffeting, which can be both annoying and painful at times. The industrial ones joined by a thin line are best because they get lost less easily.
Weather Protection for Face…
I wear #55 sunscreen and the peaked hat noted above. When it rains, I have my neoprene No Fog mask from snowmobiling than covers everything from eyes down and I also have my paddling hood if needed. Royal also has face scarves and masks for motorcycling that do the job. Some guys also wear bass fishing masks.
Weather Protection for Hands & Feet…
I wear riding gloves and ankle length water booties (for cooler temps) or water shoes when it's warmer. My goal is to protect the very vulnerable backs of my hands, ankles and foot tops from burning. Some people also wear Crocs, but they don't protect your ankles. Flip-flops don't protect much of anything except your soles when you walk on dock or land.
Weather Protection for Upper Body…
Obviously, your PFD provides decent upper body protection, but under it I wear a quick drying, light, long sleeved shirt (colourful ones can be had in the motocross (MX) section at Royal). If your PFD does not have a high collar like my Mustang one does, you may want a shirt with a collar that can be turned up (a scarf or light dickey) to protect your neck from the sun. If needed, I also have these additional layers for cooler days:
Weather Protection for Lower Body Protection…
I wear a pair of lightweight, quick-drying, long-legged bicycle tights that tuck into my ankle water booties. If added warmth is needed, I overlay them with a pair of quick drying water pants. If you have the figure for it (I don't), a neoprene wetsuit also works for both upper and lower body warmth and protection, but can be too hot and difficult to put on and take off.
Dehydration Weather Protection…
Water, water everywhere but not a drop to drink. Becoming dehydrated while Sea-Doo riding may seem like an oxymoron, but just as with snowmobiling, I sip liquid throughout the day. I carry a cooler bag with two or three refillable water bottles on every ride.
Docking Weather Protection for Your PWC…
I carry front and rear mooring ropes and HullHuggr PWC bumpers for docking. I also carry locking straps for securing my Sea-Doo watercraft to the dock overnight that are also good for locking them onto my Triton trailer.
Other Stuff to Bring…
Even though most Sea-Doo watercraft have some waterproof storage, I carry my wallet in a zip lock bag and my phone in a waterproof container. You should also have some cash just in case someone doesn't take credit cards. I also carry:
Ontario Legal Protection…
Besides the requirement to always wear a properly sized PFD, every PWC must have a sound signaling device (a whistle or air horn); a watertight flashlight or 3 flares; and a towrope. You also need personal identification and a Pleasure Craft Operator's Card.
If you enjoyed this post, check out my other products reviews!
The tips and advice in this article are the opinions of the author, may not work in every situation and are intended only for the convenience and interest of the reader, who has the personal responsibility to confirm the validity, accuracy and relevancy of this information prior to putting it to their own use.
Like This Post? Follow Me on Facebook!